Hyperspace Colosseum League
is it your life-long dream to make your living as a professional gamer? Well, Cosmos wants to make that dream a reality!
it is my pleasure to introduce the World-premier of the biggest, most badass league on the planet.
We are already paying you for helping us spread the word about HCL, now compete for cash prizes and prove your skill on the battlegrounds.

*Building the Stadium Foundations*
initial seeding will be determined by triple-elimination FFA. From there, teams will be placed in brackets depending how each member placed in the Free For All. if you don't have a team, we will form one for you, assigned with others who placed in the same round of FFA as you.

There will be three skill groups for 6v6 Pro (Jedi Masters, Knights, and Meditation).
Each of these three groups will have their own prize pool. This means you can actually win the prize of your tournament skill group even if you are a beginner to the game you are competing in. i implemented this because i wanted everyone to feel like they have a real shot of winning a tournament.

Once the League grows to full size, the monthly online tournament prize pools will look like this:
1st - $10,000 4th - $1,500
2nd - $6,000 5th/6th - $750
3rd - $3,000 7th/8th - $600
Until we make our quota of players, i expect the payout for the first tournament to be:
1st - $1,000 4th - $150
2nd - $600 5th/6th - $100
3rd $300 7th/8th - $60
At the end of the season the top Jedi Masters will be sponsored, having all travel expenses paid for at our Live Main Event LAN competing for the $100,000 grand prize.

Remember, even outside of however you place in our tournaments, you will still be receiving $20 dollar compensation every month for each person you referred ($100 dollars if you invite 5, $1000 if you invite 50; plus generous Bonuses) into the Hyperspace Colosseum League.
You can make a real full-time job income being
a Promoter of HCLeague
. Learn more
here
.
This entire League is now up only for presentation purposes only. The tournament is cancelled due to lack of response from the community. Yet i wanted to leave this page up because the Hyperspace Colosseum business system is very intelligent and well thought out. It should of launched with much success, i personally believe website blocking was used against HCL on the game servers to prevent competition with the Developer's In-house League.

i still very much have a passion for professional gaming, so this webpage displays a corner of my Mind for my Author's biography.
Begins January 27th 2018

4v4 Pro
Game 1: TDM (lower seed chooses map)
Game 2: Sacrifice (higher seed chooses map)
Game 3: TDM (higher seed chooses map)
Game 4: Sacrifice (lower seed chooses map)
Game 5: TDM Tiebreaker (higher seed chooses map)
*First team to win 3 maps advances.

All teams play best out of 5.

FFA Map: Sarnath
Duels: Top 32 Masters FFA advance to double-elimination 1v1s
Knights&Meditation compete in their own Duel skill groups
Duels will be played after FFA & 4v4 Pro is completed. All members participate.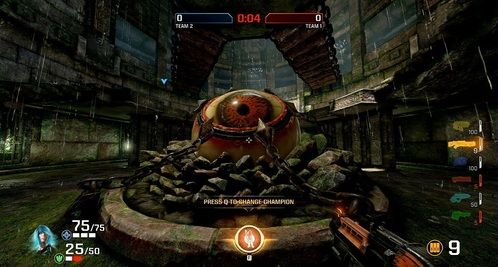 Same rules apply to Overwatch.
Triple Elimination FFA seeding. Three Skill Groups. 1v1s.
if you don't have a team, we will find one for you.

Begins January 27th 2018

6v6 Pro
1st game - Control (Oasis, Nepal, ilios, Lijiang Tower)
2nd game - Hybrid (Numbani, King's Row, Eichenwalde, Hollywood)
3rd game - Assault (Volskaya, Hanamura, Temple of Anubis, Lunar Colony)
4th game - Escort (Junkertown, Watchpoint: Gibraltar, Route 66, Dorado)
5th game - Control
*Competitive settings: On
*First team to win 3 maps advances.
Lower Seed chooses from Map Pool for games 1 and 4.
Higher Seed chooses from Map Pool for games 2, 3, and 5.

All teams play best of 5.

FFA Map: Chateau
Settings: Preset "8 Player FFA Deathmatch", in Modes set DM to 50kills/15mins.

1v1 Maps: (Ecopoint Antarctica, Necropolis, Castillo, and Black Forest)
Duels: Top 32 Masters FFA advance to double-elimination 1v1s
Knights&Meditation compete in their own Duel skill groups
Duels will be played after FFA & 6v6 Pro is completed. All members participate.
*Players vote on Map. If there can't be a agreement, the default map is Necropolis.
*Duel Settings: Select Limited 1v1 Preset, then in Modes change Hero Selection to "Any" (this will keep certain characters disabled).
Score to win "9". Restrict previously used hero "after round won".

2v2 Slayer
Overwatch has a interesting dynamic for the gametype.
Best of 3. Teams choose from the Duel Map Pool.
Settings: TDM Preset 30kills/10mins
*Higher Seed Game 1&3, Lower Seed Game 2.
*Don't have a partner? You will be teamed up with the person who ranks the same as you in 1v1s.
If the game you play competitively isn't on our list (Halo 5, PUBG, Fortnite, Smite, Starcraft, etc.) and you want to start the HCL competitive community there, please email me so i can add it to HCL lineup.
HyperspaceColosseum@gmail.com
if you want to have a one-on-one conversation for any reason (whether questions about the League, Business, or Otherwise), you can call Justin at +1 813 774 6653.
*League announcements will be made via email. No spam, only about one email every 2 weeks.

*Please try to remember who referred you, i want credit to go where it's due. If you don't know who it was, enter "GrayFoxZ" to complete registration.
i will be confirming the referral for each person who joins the League, so if you are a Promoter, don't worry, you will be getting your payout :P
Tournament check-in and round score reporting to our refs will happen on discord. The app allows HCL know who is online during tourneys, so it makes it easier to organize the brackets, direct players who they play against, give updates, and let's you speak with us if any conflict happens during online play.
*The Winner of each FFA round or Team Captain submits the score. Simply press PrintScreen on your keyboard and past it into a discord DM to our HCL ref.
*All players should save a screenshot in case of a dispute on round reporting.
You will be able to post that you are looking for a team before the tournament starts.
Also, in the channel you will be placed in the Jedi rank (Master, Knight, Meditation) you currently hold in the league, making it easy to find Scrims pre&post tourneys.
You will receive a invitation to the Hyperspace Colosseum channel upon registration.
Download for free at
https://discordapp.com/
Points will be distributed according to how you placed. The less points your team has, the higher seed you will be for the brackets of the next tournament. If you did not attend a previous tournament, you will be given a penalty of points as if you placed last for each months' tournament you missed. That means your more likely to have a higher seed with a easier bracket if you participate every month. For our mid-season tournament, we will have a reset on points (though you will keep your earned seeding going into that tourney) so we can have the most accurate ranking system including the new teams that joined HCL.

In the three different skill groups, Top 16 teams from Meditation will advanced to Knights after winning their prizes, likewise Knights to Masters.
in other words, even if you are the underdog team going into a tournament, you will still have the chance to win the grand prize no matter what skill group you begin in.

*all players must live stream to Twitch (make sure "store past broadcast" is on in settings under dashboard. use OBS, not xsplit.) starting the recording from the Desktop into loading the game, this eliminates hacking & allows refs to restart games in the scenario of game crashes. if you get caught not live streaming, your team will be disqualified and you will be banned under the default charged assumption of hacking. (At the beginning of each match, Team Captains must exchange the twitch links to every player on their team. It is the knocked out team's responsibility to check this "streaming rule" post-match and report to ref if this rule has been broken.)
On the positive side, this will give HCL a slick VOD library (Video On Demand) of our entire tournament from each player's POV.
*no one wants to play against someone who is wall hacking or using aimbot, especially when competing for cash. So thus HCL is a hack-free professional environment and the streaming rule is enforced.
*Note: Console gamers will need to use a capture card to stream. no exceptions.

While all teams hold their seeds based on points from the previous tournaments, the Top 16 Masters automatically qualify for the latter end Finals bracket. in other words, they don't have to climb their way through the Knights&Meditation competition. This applies to both FFA/Duels & Team Pro brackets. All players still have the chance to advance to the Finals.
All tournaments begin at 9pm EST until Midnight.
Depending on the participation volume, after the first two nights we may have to run the tournament into the weekdays. i chose a late starting time to avoid conflict with work&school schedules. We will also have the tournaments specific to region, NA and EU, as i know no one wants to compete on laggy servers :P (if you are in a region where neither of those seem reasonable, let's say China or Australia, we can start a tournament there also if we get enough players from that region. Enter info upon registration.) Both teams will vote on the best server for everyone in the match (remember that whoever is hosting party leader will have their gameplay on twitch, so if a sever is selected that's different than what was agreed on, you will get caught and penalized). i may need some additional staff to run the brackets, reffing, and being the commentator who will live stream the events, email me if you are interested in helping out. HyperspaceColosseum@gmail.com